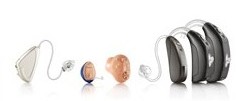 The advantages of new digital hearing aid technology are far too many to mention, but they include:
• Helping you hear better in the situations that are important to you such as being with family and friends.
• Relieving the strain and fatigue that comes from a day of not hearing well. You can improve your "listening effort."
• Eliminating the possibility of becoming a burden to your family and friends because they have to raise their voices or repeat speech to you.
• Providing a courtesy to others. Wearing a hearing aid is not a mark of infirmity, but may be a mark of courtesy to others. Your hearing loss is much more noticeable than hearing aids.
• Hearing better in noise. Wearing hearing aids can improve the brain's ability to correlate and process speech when there is a background of competing noise like in a restaurant or crowd.
• Localising and identifying sounds in the environment. Wearing hearing aids allows the auditory system, including the brain, to locate sounds such as warning signals while at work or in the car.
• Maximizing your earning potential. Studies have now clearly demonstrated that degree of hearing loss can impact the ability of persons to earn a proper living. Even mild hearing losses can interfere with a person's ability to maximize earning potential. Hearing aids provide a cost benefit if you are still working.
• Maximizing your quality of life. We live in a world that depends on communication and the primary channel for communication is through our ears.
The best way to find out how a digital hearing aid could benefit you is to contact us or even drop into one of our offices/stores. We have plenty of outlets all over Leigh, Wigan, St Helens, Liverpool, Manchester and more, contact us for your nearest.

Hearing 123 are an independent dispenser for all the major hearing aid brands
Click a logo to view information and prices on our extensive range of hearing aids, please get in touch for latest offers and any extra information.