Hearing 123 offer two methods of ear wax removal, Irrigation and Microsuction.
Both procedures are undertaken by a HCPC registered and NHS trained professional.
We have plenty of outlets all over Leigh, Wigan, St Helens, Liverpool, Manchester and more, contact us for your nearest.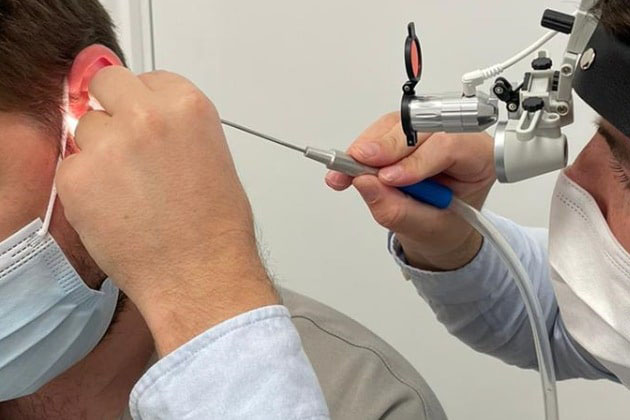 Ear irrigation is a method of removing wax in which a pressurised flow of water is used.
method is safe and very comfortable for patients who are suitable for this procedure.
Patients are asked to use oil for 3-5 days prior to this procedure. This procedure is performed using a machine which releases pressurised water into the ear canal, which is gently warmed water similar to body temperature. The irrigation machine has features which allow us to control the water pressure. The whole procedure can take 15 – 30 min in each ear.
THE BENEFITS OF IRRIGATION
Irrigation can be an effective earwax removal process for many people who suffer from wax build-up, some of the symptoms can be hearing loss. This procedure can be quick and comforting, some even say therapeutically.
It is safe, fast and can completely clear the ear canal of any wax, giving instant relief from the problems build-up of wax may cause.
Microsuction is another method which is undertaken with a suction machine. This procedure is undertaken with Askir 30 suction machine (recommended by NHS). This method is safe and comfortable for patients who are suitable for this procedure.
Usually this method does not require patient to use any drops or oil prior to the procedure, however, if patients use olive oil 3-5 days prior to this procedure, it will be much more comfortable to the patient, as the wax will be softer and easy to remove. This procedure is performed by our specialist using loupes consisting of headlights and has magnification, which enhances our specialists' vision whilst performing this procedure.
THE BENEFITS OF MICROSUCTION
This procedure is quick, safe and comfortable to the patients. Patients are not required to use any oil prior to getting Microsuction done, it is preferred but not essential. This procedure can be suitable to patients who are not suitable for irrigation method of wax removal. There is no water used in this method, so less messy. Once Microsuction has been done, patients often find instant relief from the problems wax build up cause.
Get Started
10% Off Your Hearing Test
Testimonials
What People Are Saying
I just wanted to tell you that the Oticon Exceed Hearing Aids you recently supplied are fantastic.
Your reccomendation has proven correct, they are making my life much easier. Speech recognition and sounds are so much clearer since I started wearing them, to the extent that friends and family have noticed and commented on the improvement in my hearing.
Many thanks for your excellent service and support.
When I discovered I had acute hearing problems, I contacted Hearing 123.
 I was received with great xxx and the personal and professional service I recieved was a tremendous support
I would have no hesitation recommending Hearing 123, xxxx