Hearing loss can be a direct result of an occupation, a recreational activity, ie Shooting or motor sport, or simply exposure to loud sounds. Our protection and enhancement products are the first step in an effective hearing conservation program. We have plenty of outlets all over Leigh, Wigan, St Helens, Liverpool, Manchester and more, contact us for your nearest.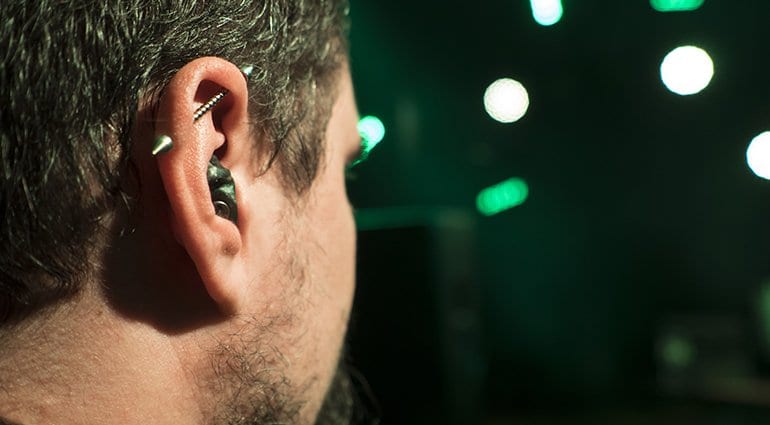 Shooting environments and other extremely loud sounds. It takes the "sting" out of blast noises and helps reduce "noise hangover" from loud music. We are an approved provider of Cens hearing protection for shooting enthusiasts as well as puretone Musicians monitors such as, digital Micro monitors for serious musicians as well as Elacin hearing protection for Musicians and DJ`s.
They can be worn continuously without discomfort and are custom made.
Motorsport Hearing Protection

Racing molds are used by amateur and professional drivers who demand quality one-way listening communication.
The custom design allows maximum comfort and durability and provides excellent sound suppression underneath any racing helmet.
Available in full shell and half shell styles and are standard with 18 inch cord length on a mono 1/8 inch jack plug. Stereo jack plugs are also available upon request.
Musicians Monitors

Custom Stage Micro Monitors eliminate the need for traditional stage monitor wedge speakers. With options for every musician on stage from vocalists and keyboard players to guitarists and drummers.
The monitors provide lower stage volume for the performer, which results in truer sound for the audience as well as less equipment to purchase and transport.
Hearing protection for musicians

Musicians earplugs such as the Elacin ER-15 or 25 attenuate across all frequencies rather than just low- and mid-range frequencies, making music more clear and natural sounding and offer true protection from loud or continuous sound.
Typically a canal style size but depends on ear canal size.
For optimum performance, a long canal at least 19 mm is required.
Available with three different attenuating filters: ER-9 (9 dB cut), ER-15 (15 dB cut) and ER-25 (25 dB cut).
For those who have to endure a snoring partner
Custom fit earplugs provide outstanding noise protection for a variety of recreational and occupational environments.
The corded earplug option allows the wearer to place the plugs around their necks when not in use.
We are happy to provide home visits in the following towns, Leigh, Wigan, St helens, Warrington, Bolton, Bury, Lymme, Altrincham, Prescott, Widnes, Liverpool, Huyton, Knowsley, Kirkby, Culcheth, Newton-le-Willows and surrounding areas
Get Started
10% Off Your Hearing Test
Testimonials
What People Are Saying
I just wanted to tell you that the Oticon Exceed Hearing Aids you recently supplied are fantastic.
Your reccomendation has proven correct, they are making my life much easier. Speech recognition and sounds are so much clearer since I started wearing them, to the extent that friends and family have noticed and commented on the improvement in my hearing.
Many thanks for your excellent service and support.
When I discovered I had acute hearing problems, I contacted Hearing 123.
 I was received with great xxx and the personal and professional service I recieved was a tremendous support
I would have no hesitation recommending Hearing 123, xxxx